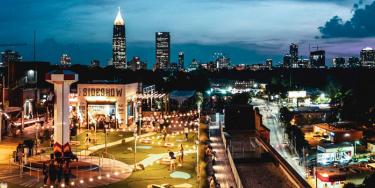 Tourism Product Development (TPD)
* TPD PROGRAM PAUSED IN 2021 *
We are not currently accepting applications, but we invite you to browse our library of reports for tourism product recommended for peer communities between 2010 and 2020. 
To grow Explore Georgia, our industry must continually expand, enhance or improve the quality and quantity of experiences available to visitors. The Tourism Product Development (TPD) staff offers guidance through on-site or virtual Resource Teams, culminating in a full report of recommendations,  grant opportunities, and follow-up technical assistance. By identifying and enhancing a community's tourism product, the Resource Team approach ultimately will help draw more visitors to the community as well as provide an overall diversified economic development strategy for bringing jobs and infusing new money in to a community in a sustainable manner.
What does success look like?
Success in all the Georgia tourism pillars: African American Heritage, Outdoor Recreation, Georgia Grown, Film & Music, and Iconic Georgia are heralded by Commissioner Pat Wilson in the following video where he notes "our TPD program empowers and assists communities by helping them identify, develop and get their experiences visitor-ready. In its first 10 years, Georgia's TPD Program has served ~200 communities across the state, several are featured in this slideshow, and we place a strong emphasis on serving rural communities" (see map below).