Georgia Tourism Launches New Georgia Film Selfie Spot Tour
New tour puts visitors in the scenes from popular film and television shows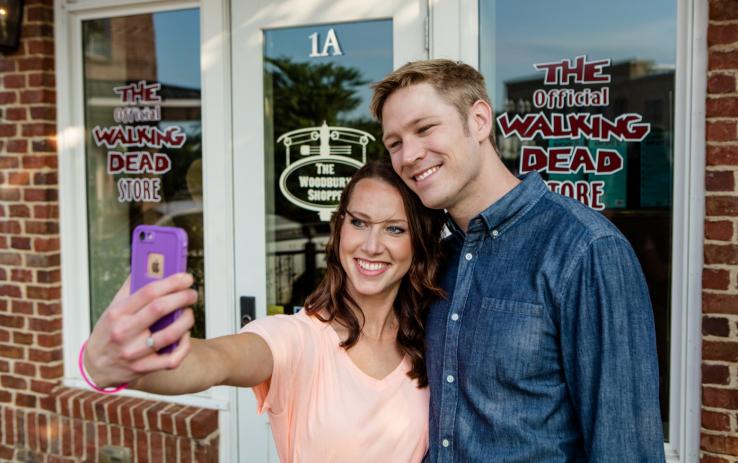 Atlanta, Aug. 3, 2017 – Georgia Tourism, a division of the Georgia Department of Economic Development, announced today the launch of its new program, Georgia Film Selfie Spot Tour. The self-guided tour aims to highlight Georgia's rapidly growing film tourism sites across the state. The program will run through the end of the year.
"Georgia has grown to become a top destination for filmmakers and a top destination for film fans," said Kevin Langston, GDEcD deputy commissioner for tourism. "Visitors come from all over the world to follow in the footsteps of their favorite movie and TV personalities and the new Georgia Film Selfie Spot Tour will help them do just that. This is a fun and exciting way to experience these locations scattered all over Georgia."
Social media fans are encouraged to share their insta-worthy selfies on the Georgia Film Selfie Spot Tour using #GeorgiaFilm. The tour includes 33 sites across the state, and each will have a decal on the ground indicating the best spot for film fans to take a selfie. Some of the sites include:
Swing by the Porsche Experience Center Atlanta for a test drive and get take a selfie at the Avengers' headquarters.
Have a seat next to Forrest Gump on a replica of the famous bench like those once found in Chippewa Square and ponder the important questions of life – or just enjoy a box of Savannah-made chocolates.
For the 25th anniversary of My Cousin Vinny, pick up your own can of tuna… though we request you pay for yours – Judge Haller doesn't want any more yutes in his courtroom. You know: yutes.
The home planet of Peter Quill …errr, Star-Lord… is, of course, Earth, with Cartersville serving as the backdrop for that legendary, beautiful and surprisingly oft-invaded planet.
This year Georgia Tourism is celebrating the "Year of Georgia Film" and has set the stage for a blockbuster year by focusing ongoing digital, social, public relations and sales efforts on film-inspired tourism – including the locations, attractions, tours, experiences, events, restaurants and lodging that have all played vital roles in casting Georgia as a top-tier film destination. Visit ExploreGeorgia.org/Film for Georgia film tours, trip ideas, photo galleries, articles, events, attractions and more.
The Georgia Film Selfie Spot Tour will be shared on all of Georgia Tourism's social media channels. Fans can follow @ExploreGeorgia on Facebook, Twitter and Instagram. To find more information on the tour and to view each spot visit ExploreGeorgia.org.
About GDEcD
The Georgia Department of Economic Development (GDEcD) is the state's sales and marketing arm, the lead agency for attracting new business investment, encouraging the expansion of existing industry and small businesses, aligning workforce education and training with in-demand jobs, locating new markets for Georgia products, attracting tourists to Georgia, and promoting the state as a destination for arts and location for film, music and digital entertainment projects, as well as planning and mobilizing state resources for economic development. www.georgia.org