EXPLORE GEORGIA EMAIL
Explore Georgia's 200,000+ email subscribers are ready to dive into captivating content. With a 26% average open rate, garner strong awareness and generate efficient traffic to your website. All email opportunities are sent to the full Explore Georgia email database.
Don't miss the chance to promote your business to a qualified and targeted audience!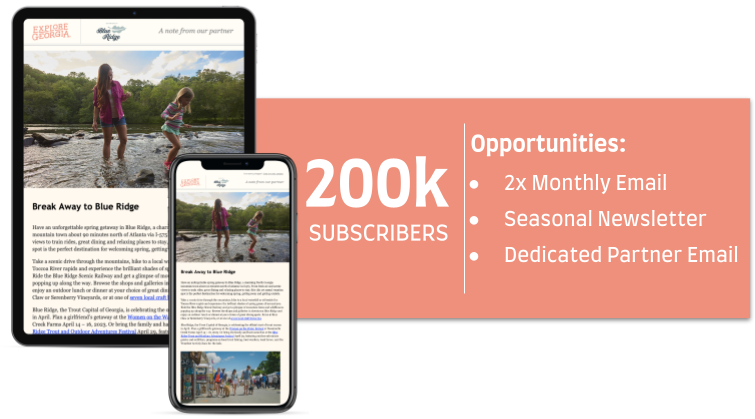 Explore Georgia has three email newsletter opportunities:
Explore Georgia reserves the right to cancel any scheduled email for a full refund to partner should circumstances warrant going dark or limiting messaging on social, e.g., travel restrictions during pandemic or due to natural disaster.
---
Monthly Newsletters (Two Per Month)
Twice a month, Explore Georgia sends travel ideas and inspiration to its opt-in subscribers. Include your message in one of two content-focused positions - Featured Partner content near the top of the email or the Partner Spotlight further down in the body of the email - or a more graphic representation in the Leaderboard Display Banner for your messaging.
Frequency/Pricing: These emails deploy on Thursdays, the first and third week of every month. One email ad placement per purchase available.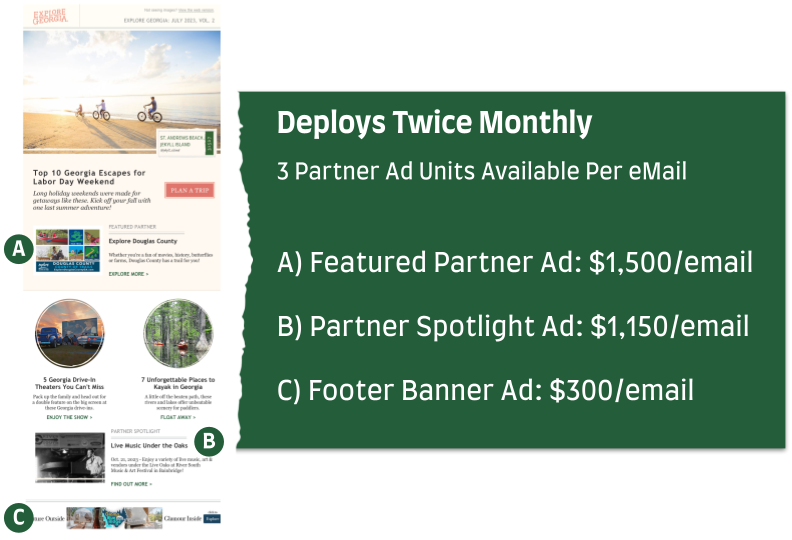 ---
Seasonal Georgia Emails
Five times per year, Explore Georgia spotlights the state's best and most interesting seasonal activities. Choose from the Featured Partner content near the top of the email or the Leaderboard Display Banner included in the footer of the email.
Frequency:

These emails are sent the fourth Tuesday of the months noted below.
Winter: deploys December 2023, featuring January and February content

Spring: deploys January 2024, featuring March and April content

Summer: deploys April 2024, featuring May, June and July content

Fall: deploys July 2024, featuring August, September and October content

Holiday: deploys October 2024, featuring November and December content
Pricing:
A - Featured Partner: $1,500/email
B - Footer Display Banner Ad: $300/email
---
Dedicated Partner Emails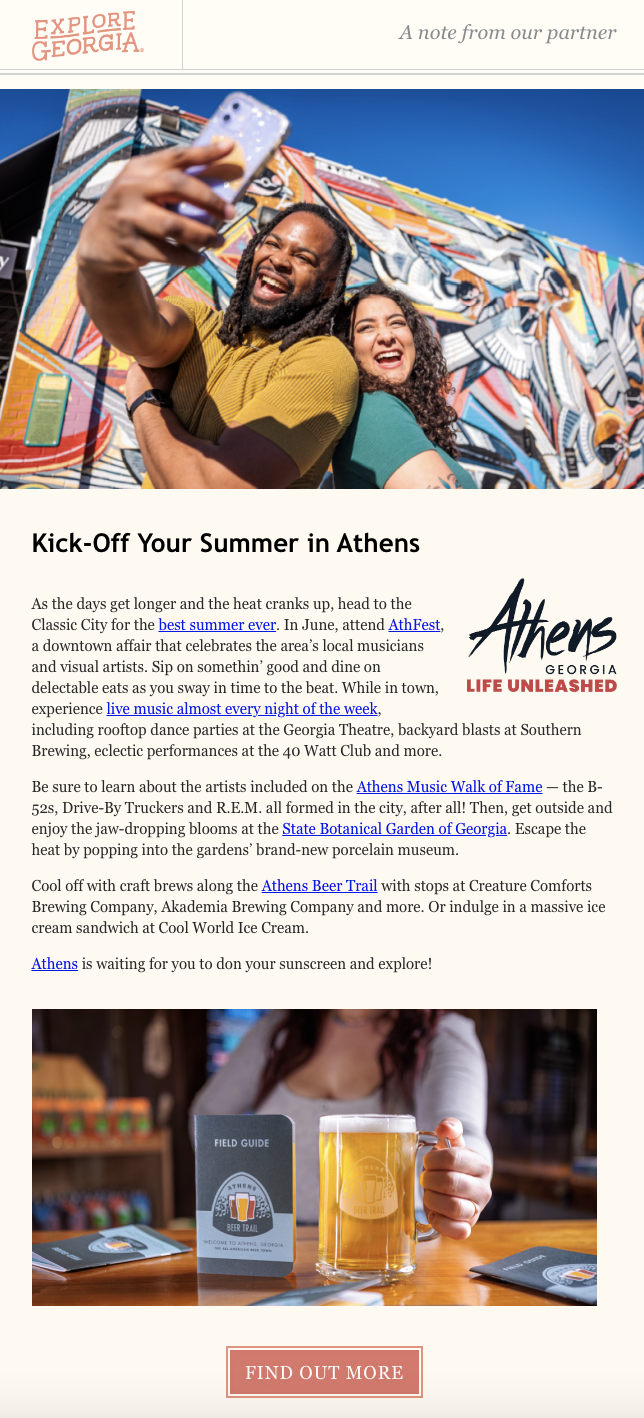 Promote your destination or business with this 100% SOV custom email offering. Your brand's content – developed in conjunction with you, Explore Georgia, and Miles Partnership – will be sent to the full Explore Georgia email database.
Participation is limited to one time per quarter and excludes consecutive-month purchases. 
Frequency: Monthly
These emails are distributed the second Thursday of each month.
Pricing: $5,000.
Cost reflects all development and production of email, in conjunction with Miles Partnership and Explore Georgia. 
For more information, contact: Carly Stedman Norosky - Travel Media & Marketing Executive Carly.Stedman@MilesPartnership.com, (202) 681-8169 or your Explore Georgia Regional Marketing Manager.