Social Media Advertising
Explore Georgia has one of the strongest social media followings among state DMOs.
On Instagram, @ExploreGeorgia is the seventh most followed state DMO account in the U.S. Each quarter, social metrics continue to exceed growth and engagement industry benchmarks. Activity across @ExploreGeorgia platforms also drives website sessions and conversions, supporting ExploreGeorgia.org. Reach our engaged audience of inspired travelers with your content, drive traffic to your site, and navigate visitors to your location, attraction, or event.
Digital Advertising Contact
Miles Partnership serves as the digital sales partner for Explore Georgia's owned media properties. Contact Miles with questions on any digital opportunities or to reserve your space.
Carly Stedman Norosky
Travel Media and Marketing Executive
Miles Partnership
(202) 681-8169
Carly.Stedman@MilesPartnership.com
---
Sponsored Social Media Posts
Take advantage of the reach on Explore Georgia's social media channels. Showcase your destination and increase awareness through partner social posts: Facebook + Instagram combo post, a Facebook-only post or an Instagram-only Story post.
Participation is limited to one time per quarter, and excludes consecutive-month purchases.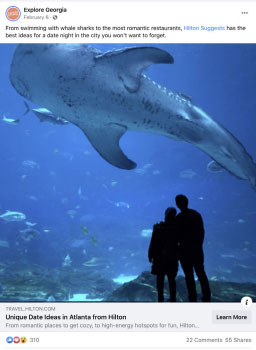 Frequency: Two (2X) sponsored social media posts available per month.
Pricing: All costs include the development and production of partner social content.
Facebook + Instagram In-feed posts: $1,000 per post
Facebook In-feed only: $650 per post
Instagram Story only: $650 per Story
Specs: Content is written by Miles Partnership using partner-provided content to align with the Explore Georgia brand. Content provided by the partner should NOT be overly promotional, use stock photography, or include a logo.
Photography

Maximum file size: 4MB
Instagram: 1080x1350; 1080x1080, if square
Facebook: 1200x630

Click-thru URL/landing page link
Send all materials to Ally Drees at Ally.Drees@milespartnership.com four weeks prior to confirmed publish date.
Content development is limited to two rounds of proofing.
Explore Georgia reserves the right to cancel any scheduled social post for a full refund to partner should circumstances warrant going dark or limiting messaging on social, e.g., travel restrictions or due to natural disaster.