Explore Georgia Website Advertising
ExploreGeorgia.org is the state's official tourism destination website, supplying travel ideas and inspiration to more than 9 million users in 2021. It also provided 2.6 million referrals for partners last year. ExploreGeorgia.org holds a Page 1 position in Google for nearly 11,000 keywords, making it the sixth-best performing state DMO site nationwide.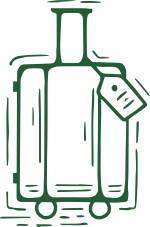 9.1 Million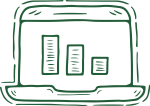 11.5 Million
2.6 Million
ExploreGeorgia.org Website Offerings
Digital Advertising Contact
Miles Partnership serves as the digital sales partner for Explore Georgia's owned media properties. Contact Miles with questions on any digital opportunities or to reserve your space.
Carly Stedman Norosky
Travel Media and Marketing Executive
Miles Partnership
(202) 681-8169
Carly.Stedman@MilesPartnership.com
---
Explore Georgia offers a variety of paid opportunities to promote your business or destination on ExploreGeorgia.org:
Featured Listings
Featured Listings offer a top-tier sort of all listings. This opportunity offers partners a cost-effective, annual presence on ExploreGeorgia.org and helps drive qualified traffic to your site through your partner profile.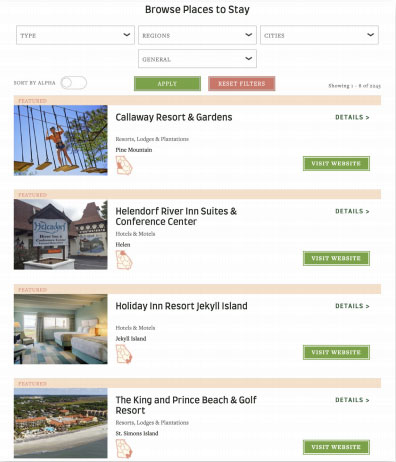 Available Categories:
Category purchased should be directly associated with your listing type on ExploreGeorgia.org. Your featured listing will show up on the main featured listing category page and the sub-pages as they apply.
Frequency: Featured Listings are live for 12 consecutive months.
Pricing: $1,200. Reflects an annual commitment.
Specs: Featured Listings are populated through Explore Georgia's Partner Extranet. If you do not currently have a listing or if you have any questions on your listing's content prior to transitioning to a Featured Listing, please contact your Regional Tourism Marketing Manager.
---
Display Banner Program
More than nine million users visit ExploreGeorgia.org each year to find travel inspiration to all of the state's diverse offerings. Increase your brand's exposure on our highly visited site through a targeted display banner package.

Using a tiered approach of guaranteed impressions delivery, partners can select the package best suited to meet your business and budget goals. Impressions will be served run-of-site – rotating with two unit sizes – and be optimized across the site throughout your campaign's flight. Campaigns are priced on a CPM model, with discounts triggering at defined impression levels. 
Pricing:
50,000+ impressions: $900 ($18 CPM) - minimum buy-in
100,000+ impressions: $1,600 ($16 CPM)
200,000+ impressions: $2,800 ($14 CPM)
500,000+ impressions: $7,000 ($14 CPM)
Specs:
300 x 250 & 970 x 250 (NEW in 2023!)
JPG or PNG
RGB
Include URL for click-through landing page 
---
Sponsored Content
Elevate your brand's presence on ExploreGeorgia.org with this professionally written content opportunity. This content – developed in conjunction with you, Explore Georgia, and Miles Partnership – will live on ExploreGeorgia.org for a year, gaining the audience of our widely visited site. Your article will have 100% share-of-voice, all ad units on this page, and priority sorting in related content throughout the site. Included with your sponsored content is a 10,000 impression banner ad package*.
Additionally, your sponsored content may be promoted when space is available in Explore Georgia social posts and/or within Explore Georgia e-newsletter ad positions. If any of these spaces are available, you will be contacted with the materials needed to enact this offering.
This opportunity is limited to 10 total partners per 12-month window.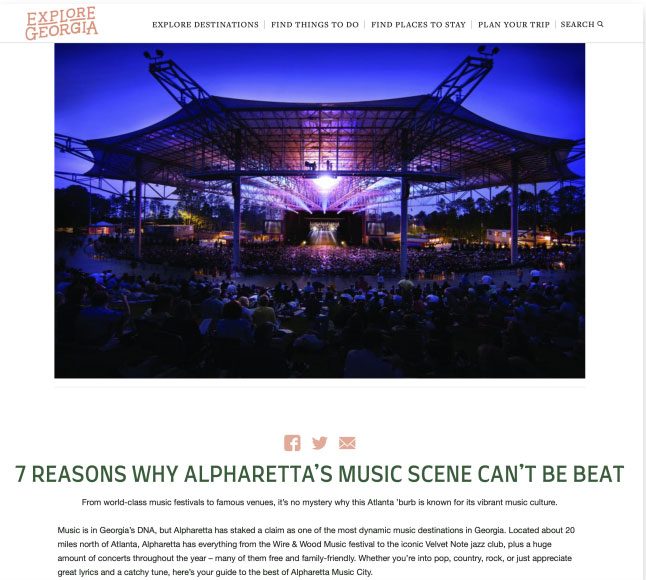 Frequency: Sponsored Content is live for 12 consecutive months.
Pricing: $5,000. Cost reflects all development and production of sponsored content. If you're interested in changing content seasonally, each change is an additional $1,500. Sponsored Pin opportunities available at an additional cost. Contact the team to learn more.
Specs: Sponsored content is written by Miles Partnership to live within the brand voice of ExploreGeorgia.org using a list of partner-provided content, a collaborative outline process, and final approval by partner and Explore Georgia.
Content Request: Partner's desired topical focus for the article, including any mandatory requests. Please keep in mind the final article will be between 600-800 words, so limit content focus accordingly.

Miles Partnership will create a content outline for review with each partner. Upon approval, Miles will write the article for partner and Explore Georgia approval, prior to publishing.
Content development is limited to three rounds of proofing.

Images: Up to 10 photos to accompany the article

High-resolution, horizontal-oriented images
Partners can resource images from PictureGeorgia.org if needed.

URLs: Include a click-through URL related to the article's main theme.

Additional URLs can be submitted to be included as content hyperlinks, as applicable.

Promotional Assets: To be provided upon request by Miles as space becomes available within Explore Georgia properties.

File formats: JPG or PNG
Display Banner: 300 x 250 & 300 x 100
Email Image: 225 x 160

Send all content requests and materials to Ally Drees at Ally.Drees@milespartnership.com four weeks prior to confirmed publish date.
*Subject to change based on available website inventory
---
Lead Generation
Gain exposure in front of our most qualified audience and grow your opt-in database with our lead-generation program. This program not only grows your database; it also drives traffic to your site! Here's how it works: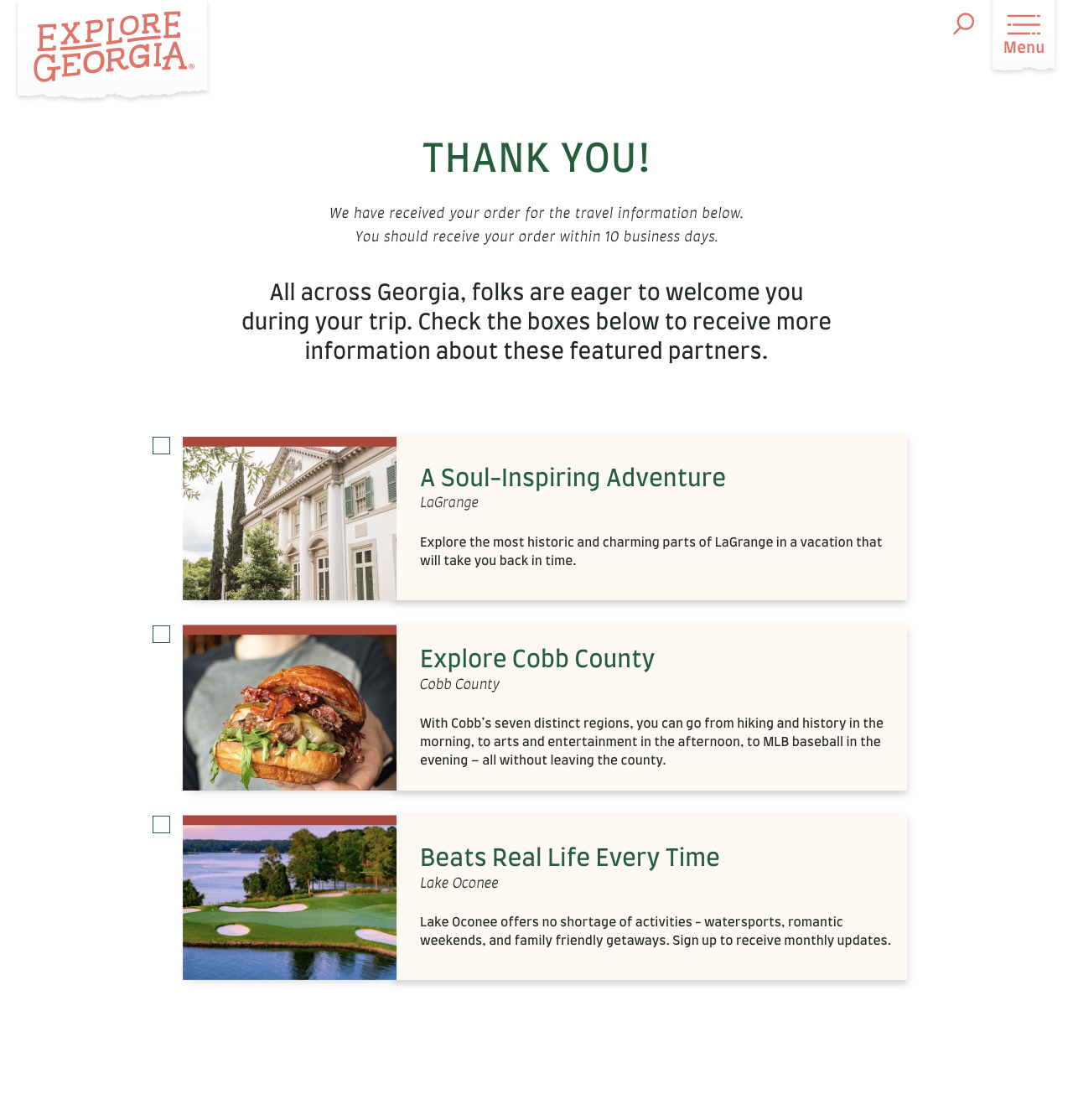 STEP 1: Visitors sign up to receive information from the state and can request to receive information directly from you.
STEP 2: Upon requesting info from you, visitors receive an immediate, auto-generated email written by you.
STEP 3: You receive triple-qualified travel planners' contact information weekly.
Pricing: $5,000 for 12-months
---
Programmatic Retargeting
Using first-party data, create the ability to target audiences based on their demographics and behaviors, engaging users who have previously visited ExploreGeorgia.org and retargeting them with meaningful messaging encouraging them to visit. These programmatic packages provide you with exclusive access to Explore Georgia's first-party audience through site retargeting and look-alike modeling for a full funnel approach. 
Pricing:
250,000 impressions: $2,500 ($10 CPM), 30 days
800,000 impressions: $6,000 ($7.50), 30 days
1,110,000 impressions: $11,000 ($7.50 display/native; $15.75 video CPM), 60 days
2,050,000 impressions: $15,000 ($7.31 CPM), 60 days
Specs: 
Ad Sizes to Provide: 300x250, 728x90, 160x600, 300x600, 300x50, and 320x50
File Format(s): JPG, Static GIF, Animated GIF, Max File Size is 100 KB
File Format: HTML5 Max File Size is 200 KB provided in a Zip Folder with backup image less than 100 KB
Animation: Max Loop 3x & Max Time is 15 sec.
Clickthrough URL
Send all materials to Ally Drees at Ally.Drees@milespartnership.com three weeks prior to confirmed launch date.