EXPLOREGEORGIA.ORG
ExploreGeorgia.org promotes travel ideas and inspiration to mostly new, some returning, Georgia visitors. By tapping into this audience of engaged website visitors, contributing to nearly 11 million sessions annually, you'll ensure your brand is top of mind when travelers plan their next trip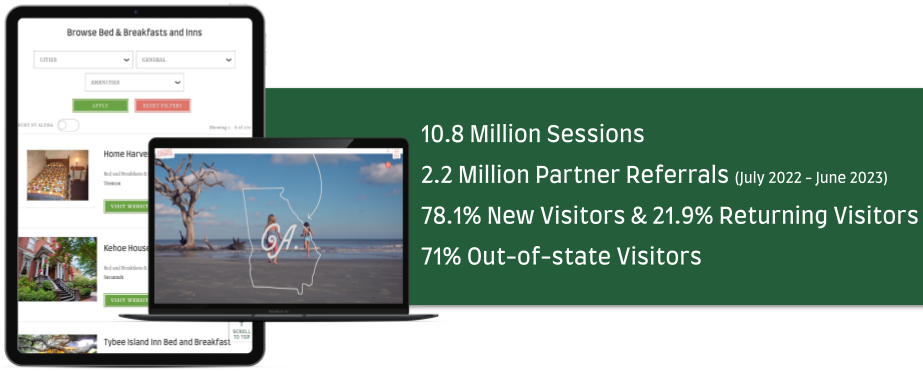 Explore Georgia offers a variety of paid opportunities to promote your business or destination on ExploreGeorgia.org, including a free option.
---
Business and Event Listings - FREE
Tourism-related businesses can include a free listing on ExploreGeorgia.org through our customized extranet dashboard. Visitors to the website are able to access details about your attraction, business, or event when planning their next vacation. 
Through your personalized dashboard, listings can be added, updated or removed at any time and you can access multiple listings or events, as applicable. The dashboard also provides reporting metrics for your listings.
You can request a new account by registering here, and don't hesitate to contact your Explore Georgia Regional Marketing Manager for additional details and instructions on how to load a free business listing.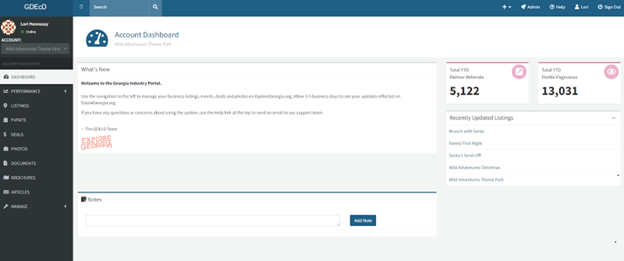 ---
Featured Listings
If you want to take your free listing to the next level, Featured Listings offer you a cost-effective, annual presence on ExploreGeorgia.org to drive qualified traffic to your site. Much like paid search, Featured Listings promote your listing to the top of all listings, and can be purchased by category.
Your featured listing will show up on the main featured listing category page purchased and the sub-pages as they apply. The category purchased should be directly associated with your listing type on ExploreGeorgia.org.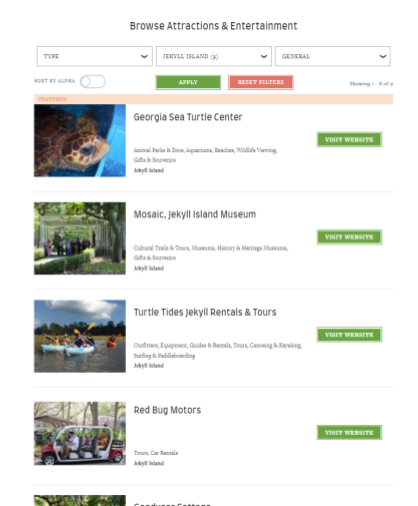 Available Categories:
Frequency: Featured listings are live for 12 consecutive months.
Pricing: $1,200. Reflects an annual commitment.
---
Display Banners
Increase your brand's exposure on our highly qualified site through a targeted display banner package. Using a tiered approach based on guaranteed impressions delivery, partners can select the package best suited to meet your business and budget goals. Impressions will be served run-of-site – rotating with two unit sizes – and be optimized across the site throughout your campaign's flight. Campaigns are priced on a CPM model, with discounts triggering at defined impression levels.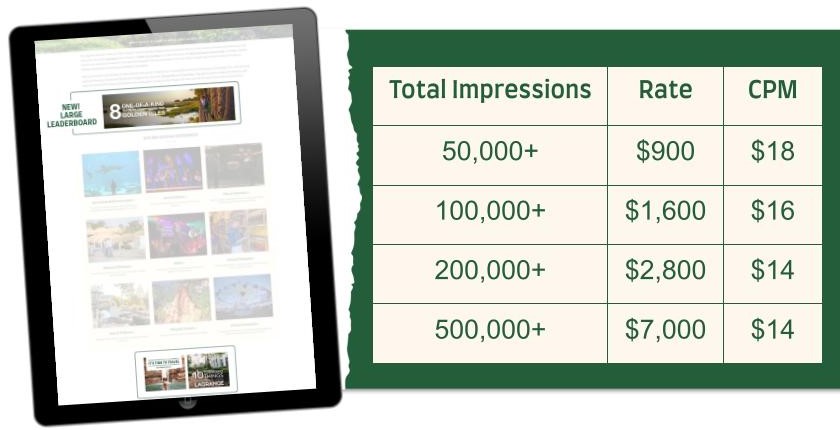 Units:
970 x 250 Leaderboard Ad
300 x 250 Rectangle Ad
---
Digital Media Retargeting
Reach users who have previously visited ExploreGeorgia.org and retarget them with meaningful messaging about your attraction, business, or destination. Leverage Explore Georgia's first-party data with custom audience-building tactics. Packages include a mixture of display, native and/or video ad units, and can be sold in flight lengths of 30 or 60 days.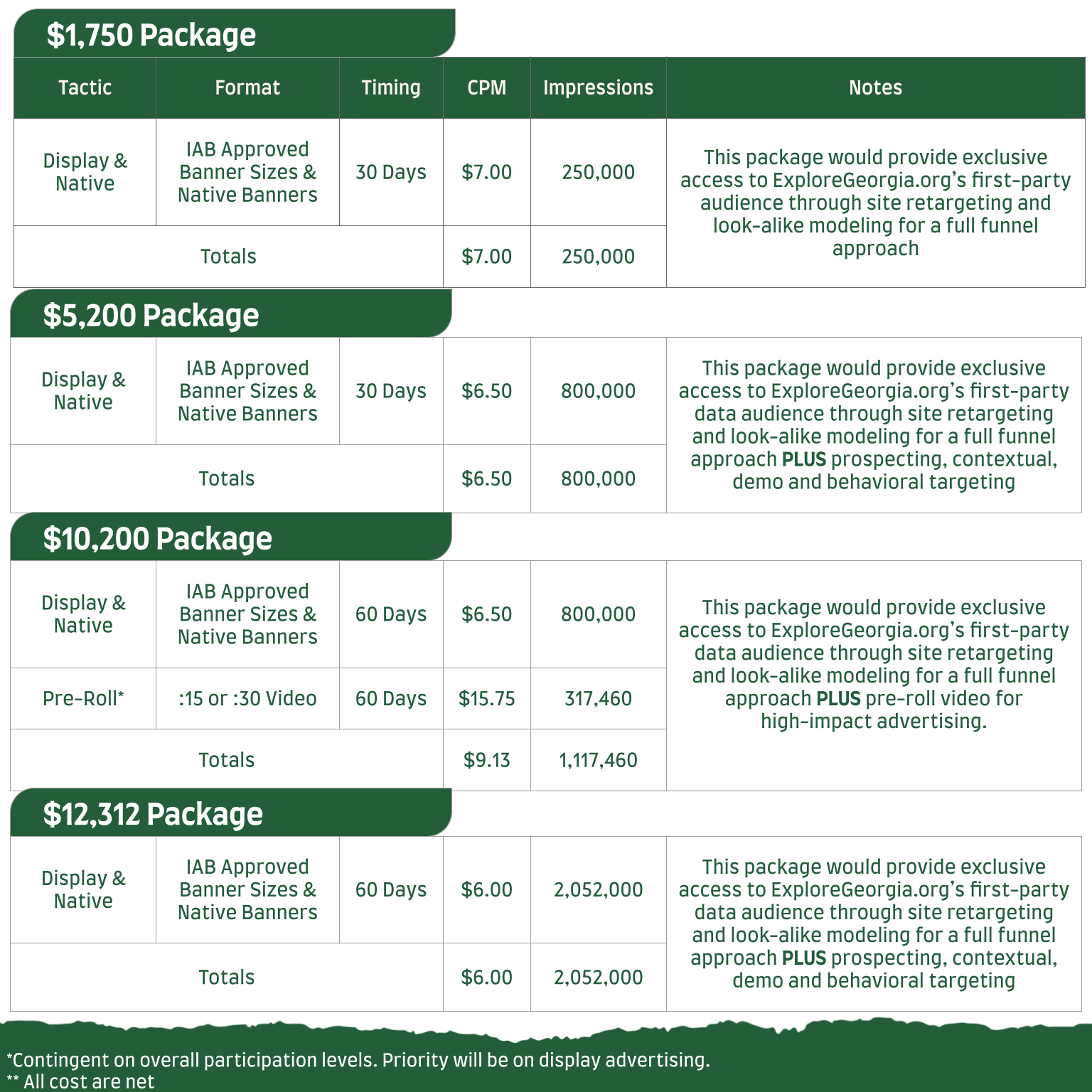 Availability: 4-6 week production time ahead of campaign start. Availability based on inventory.
Reporting: At the end of the campaign, partners receive details preforming metrics. 
---
Sponsored Content
Guarantee editorial coverage for your brand on ExploreGeorgia.org with this professionally written content opportunity. Your brand's content – developed in conjunction with you, Explore Georgia, and Miles Partnership – will live on ExploreGeorgia.org, reaching our highly-qualified audience. Your article will have 100% share-of-voice, all ad units on this page, and secure you priority sorting in related content throughout the site. Included with your sponsored content is a banner ad package, guaranteed at 10,000 impressions. 
Additionally, your sponsored content may be promoted when space is available in Explore Georgia social posts and/or within Explore Georgia e-newsletter ad positions. If any of these spaces are available, you will be contacted with the materials needed to activate this offering. 
This opportunity is limited to 25 total partners per 12-month window.

Frequency: Sponsored Content is promoted for the 12 consecutive months of your contract, and lives on as evergreen content on ExploreGeorgia.org after your contract ends. 
Pricing: $5,000. Cost reflects all development and production of sponsored content, in conjunction with Miles Partnership and Explore Georgia
---
Lead Generation
Gain exposure in front of our qualified audience and grow your opt-in database with our lead-generation program. This program not only allows you to add thousands of subscribers to your database; it also drives traffic to your site!
How it works:
When visitors sign up to receive our Travel Guide here on ExploreGeorgia.org, they can also request to receive information from you.
Upon requesting information from you by simply checking a box, those visitors receive an immediate, auto-generated email with pre-approved messaging about your brand.
Each week, you will receive these visitors' contact information to add to your database.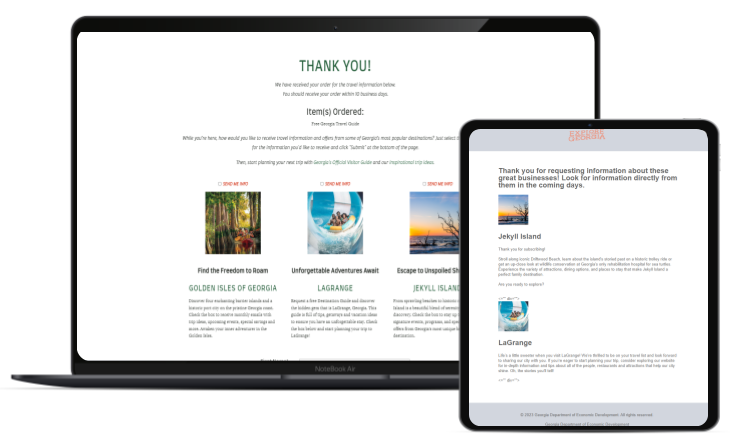 Frequency: Unlimited Leads
Pricing: $5,000 for 12 months
For more information, contact: Carly Stedman Norosky - Travel Media & Marketing Executive Carly.Stedman@MilesPartnership.com, (202) 681-8169 or your Explore Georgia Regional Marketing Manager.